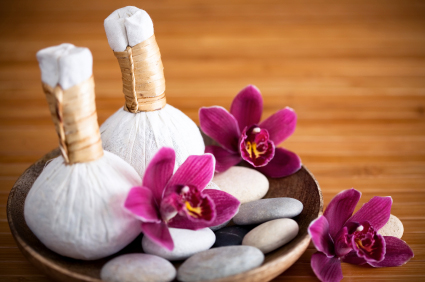 LUK PRA KOB (Thai Herbal Compress)
Thai Herbal Compress Massage technique is an ancient traditional healing practice dating back nearly 5,000 years to an era when knowledge of plants' topical and nutritional benefits was passed from one generation to the next.
In Thailand, the herbal compress is called lukprakob meaning 'herbal pressing sphere'. Thai Herbal Compress therapy was designed to relieve pain and inflammation in soldiers returning from battle and in women after childbirth. In ancient times, it was also used in the elaborate therapy treatments of Thai royalty.
Some scholars believe that Thai Herbal Compress therapy originated from ancient Indian Ayurvedic practices and was introduced to Thailand around 200BC by Indian monks as they established the first Buddhist monasteries there. Others believe it came from rural folk medicine and was passed on verbally along an unbroken chain of masters or through secret manuscripts handed from teacher to student.
Two herbal compresses are steamed before applying against the whole body or the aching area. After it gets cool, another compress is switched to sustain the warm relaxing experience, improve blood circulation, and alleviate muscle tensions.
*Bonus: take them home with you.
Tony's Blend
Blend currently contains:
Lemongrass, Lavender, Rosemary, and Ginger Root.
*Add $5.
Traditional Thai Northern Blend
The Northern Blend is based on a formula from Chiang Mai and crafted in association with Tao Mountain Association of Thai Massage and Herbal Medicine.
It's a hot stimulating blend of Organic Thai Herbs to help broken or blocked Sen lines. The hot herbs in this compress blend are deeply penetrating and most commonly used for sore, over-worked muscles.
Blend contains: Eucalyptus, Lemongrass, ginger, Galangal, Camphor, and Turmeric.
*Add $10
Red Zingiber Blend
Deep Heat! This is a very therapeutic compress blend is for use in cases of Arthritis pain, sprains, sore ligaments, extreme muscle tightness, broken bones and fractures.
Blend contains:
Ginger Root, Thai Plai Cassumunar Ginger, Galangal, Cinnamon, Calamus Root, Safflower Petals and other hot Thai herbs.
*Add $10